Ensure smooth sailing with tires and tire services at My Mechanic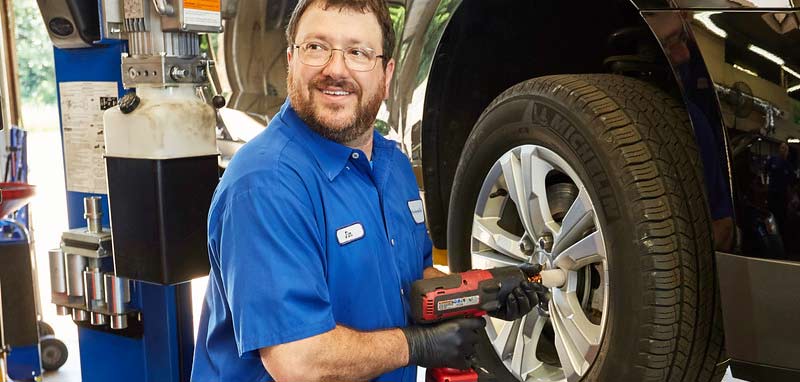 Did you ever think about the fact that your tires are the only contact between your vehicle and the roadway? That's why we always recommend choosing a quality tire at a fair price that suits your driving needs, rather than opting for the cheapest tire you can find on sale.
At My Mechanic, we can:
Advise you on choosing a quality set of new tires.
Mount & balance your new tires for you.
Rotate your tires — Typically, we do this at no charge.
Align your wheels. — A standard four-wheel alignment is $125.40.
Repair tires with nails, etc. — Provided we can do so safely.
Tire FAQs
Why Should I Use My Mechanic Instead of a Discount Tire Store?
First, we take the time to understand how long you'll be driving your car, how you drive it and what your needs are. Do you need all-season tires, or would winter and summer tires be better for your car? Do we need to install run-flats, or is there a more economical option for you? Once we understand your needs, we can recommend the appropriate tires for your driving and for your budget.
At a discount tire store, they have loads of inventory they need to clear out, and they can recommend what's on sale or what needs to be sold–without considering the best tire for you.
And when it comes time to install your new tires, our professionally trained, career-focused automotive technicians know how to identify worn steering and suspension parts that could ruin your new tires. We make sure we address any worn components before we send you down the road.
In addition, we have an ultra modern wheel alignment rack that's only 1.5 years old, and our wheel balance machine is only 3 years old. That means we can handle today's specialty wheels and rims.
How Often Should I Need New Tires?
As with brakes, the life of your tires varies according to:
How you drive. Are you a cautious driver who eases on the gas and brakes and takes turns at a conservative speed? Or do you aspire to be the next NASCAR superstar?
The vehicle you're driving. The engineering of a car or truck affects the life of the tires, as does the quality of the tires installed at the factory.
The type of tire on the vehicle. If your vehicle is equipped with run-flat, low profile or performance tires, they will inevitably have a shorter tread life than a set of all-season tires on a basic sedan.
The condition of the suspension & steering systems. Worn suspension and steering parts wear out your tires unevenly and prematurely.
The wheel alignment. Like your steering and suspension systems, a vehicle that's out of alignment can wear your tire tread unevenly and prematurely. Choose a repair shop like My Mechanic that will keep an eye on things like this for you and warn you before the tires are too far worn.
How Will I Know if I Need New Tires?
There are a number of signs that you need new tires. These include:
The tread is less than 2/32 inch deep on any one part. This is the minimum legal thickness. We actually recommend you replace the tires at closer to 3/32 inch or 4/32 inch. If you need to brake in an emergency, your car will stop about 100 feet sooner with 4/32 inch of tire tread than with 2/32 inch. This can be the difference between a heart-pounding emergency stop and a vehicle collision.
The tire tread or sidewalls are dry and cracked; in other words, dry-rotted.
There's a bubble in any portion of the sidewall.
How Will I Know if I Need My Tires or Wheels Balanced?
If your wheels need to be balanced, you will likely notice:
A vibration from the wheels, typically in the steering wheel, at certain highway speeds. If you go faster or slower, the vibration disappears.
The tire tread is wearing unevenly.
How Will I Know if I Need a Wheel Alignment?
If your wheels need to be aligned, you'll likely notice:
The tire tread is wearing unevenly.
The steering wheel is crooked even when you're driving on a straight road.
The vehicle consistently pulls to the left or to the right.
What Else Should Be Done at the Same Time?
To preserve the life of your new tires, these first two services are strongly recommended by any reputable shop. The second two are just a good idea!
A steering & suspension inspection.
A wheel alignment.
A brake inspection. (Easy to do when the tires are removed from the vehicle!)
Checking the tire pressure in the spare tire.
Do you have more questions about tires or routine preventive maintenance for your vehicle? Don't hesitate to call us at (630) 833-6100 or schedule an appointment today.