Keep your engine running reliably with regular oil changes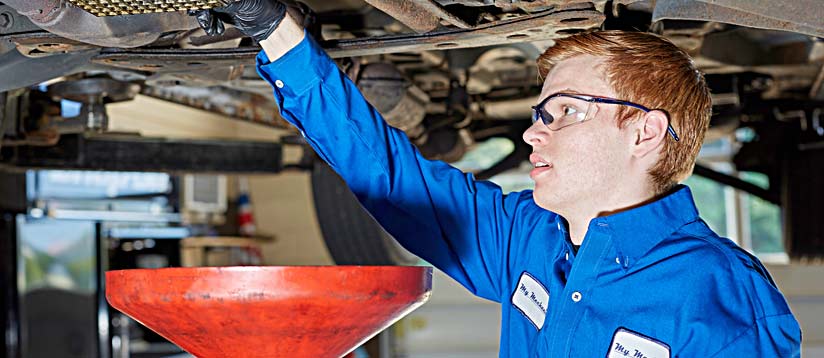 Changing your engine oil regularly is one of the most affordable and critical maintenance services you can do to keep your engine running for as long as you own the car–or longer.
At My Mechanic, every oil change includes:
An oil & filter change
A safety inspection
Topping off the fluids
Checking and adjusting tire pressure
Checking exterior lighting
Lubricating the chassis, where applicable
Our oil change cost $34 for conventional engine oil and about $75 for synthetic oil. The cost of the synthetic oil change can vary based on the type and quantity of oil required in your vehicle.
Oil Change FAQs
Why Should I Use My Mechanic Instead of a Quick Oil Change Lane?
At My Mechanic, you'll have professional, career-minded automotive technicians changing your oil. We know the quick oil change lanes are "convenient," but they focus on getting you in and getting you out, regardless of the condition of your vehicle. We take the time to inspect your vehicle so we can keep you informed about the overall health of your car or truck. We will make you aware of any safety issues today, as well as any upcoming repair or maintenance needs. This allows you to plan and budget accordingly.
In addition, if we see a repair need that requires immediate attention, we can take care of that for you while you're here. If you're at a quick lube, they'll have to refer you to a full-service auto repair shop, requiring you to take your car in for service a second time.
How Often Do I Need an Oil Change?
If your engine uses conventional motor oil, we recommend changing the oil every 3,000 miles or every 6 months.
Many new cars today come from the factory with synthetic engine oil. For those vehicles, we recommend changing the oil every 5,000 miles or every 6 months.
Should I Use Regular or Synthetic Oil?
Many new cars today come from the factory with synthetic engine oil. If that's the case, you must continue to use synthetic oil.
If your car uses conventional engine oil, you may want to consider changing over to synthetic oil if you:
Want to extend your oil change intervals beyond 3,000 miles.
Use your vehicle to tow a boat, camper, etc.
Use your vehicle to plow.
Idle extensively, such as in extreme stop-and-go traffic or like a cab would idle.
What Else Should Be Done at the Same Time as an Oil Change?
At My Mechanic, a lot of the services we recommend with an oil change are already included, such as inspecting the vehicle and topping off the fluids.
In addition, these services are commonly done at the same time as an oil change:
Replacing the air filter.
Replacing the cabin air filter.
Rotating the tires.
Inspecting the brakes.
Changing the wiper blades.
Do you have more questions about oil changes or routine preventive maintenance for your vehicle? Don't hesitate to call us at (630) 833-6100 or schedule an appointment today.