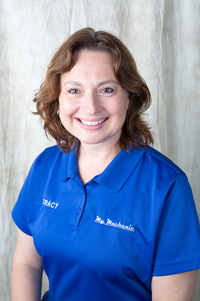 As you drive on a highway, a city street with pot holes, or a gravel road, your vehicle's suspension system works to help smooth out the ride. It supports weight, absorbs and dampens shock and helps maintain tire contact.
The components associated with that are Springs, Struts, Shocks, and Control Arms.
There are also additional chassis (body frame) components that enable steering and enhance handling of turning. All of these parts under your vehicle are constantly subjected to movement and can wear out and fail.
The following components are what we at My Mechanic look at when we do our 60 Point Vehicle Report Card Inspection on each vehicle that comes to the shop.
Alignment
An Alignment is a service that consists of adjusting the angles of the wheels so that they are set to the car maker's specification.
Wheel Alignments help your tires last longer, your vehicle drive smoother, and ultimately keep your wheels pointed in the right direction. Alignments are recommended after tire replacement.
Some misalignment issues you can prevent:
Remove junk from your trunk that may be loading down your back end and throwing off your alignment.
Maintain correct air pressure in your tires.
Ball Joints
These are ball-in-socket links that connect the steering system to the front wheels, allowing for up and down movement and side to side turning while supporting the weight of the vehicle. An alignment is needed after a ball joint replacement.
Some symptoms of worn out ball joints are:
Loose or erratic steering or wandering on the road.
A clunking noise, especially when turning.
Bushings
These generally are made from rubberized materials that are located in the front and rear suspension systems. Their purpose is to help create smooth, quiet driving. They will wear and harden or even crack over time, creating gaps that lead to clunking or rattling.
Coil Springs
Coil Springs compress and expand to absorb the motions of the wheels and are located in the front and rear suspensions. They are used with struts or shock absorbers to help provide a smooth ride.
Control Arms
Control Arms connect the front suspension of the vehicle to the chassis (frame) of the vehicle. Some systems have upper and lower control arms with coil springs and shocks between them. Other systems have lower control arms with a strut assembly that uses a combined coil spring/strut assembly. The ball joints attach to the ends of the control arms. An alignment is needed after a control arm replacement.
CV Joints (Constant Velocity Joints)
CV Joints are flexible couplings between two shafts that allows each shaft to keep the same driving speed regardless of angle. The joints are packed with grease and each is covered with a protective boot. When the boot is damaged grease leaks out and allows moisture and dirt to damage the joint.
Damaged boots create:
A clunking or clicking noise while turning and moving, such as turning into a parking space.
Shock Absorbers / Struts
Shocks are mounted near the spring. Their main job is to absorb bumps on the road and keep the vehicle from bouncing down the road.
Struts have the spring integrated into the shocks assembly. Struts hold the body of the car off the ground and affects the car's steering and alignment, and they provide support to the suspension springs. Their main job is to act as shock absorbers to support the weight of the vehicle and ensure a smooth ride. An alignment is needed after a shocks/struts replacement.
Automobile manufactures recommend replacing shocks/struts every 60,000-100,000 miles.
Signs that shocks/struts need replacing:
Hydraulic fluid is leaking out from the strut. Leaks are usually discovered by an auto mechanic upon an inspection.
If vehicle continues to bounce or even bottom out after hitting a bump.
Tire wear or uneven wear.
Cupping of rear tires, where there will be signs of high and low spot patterns on the tire from the wheels bouncing on the road.
Stabilizer Bar/Sway Bar Links
A sway bar is connected via rubber bushings to the vehicle's frame in the middle. The stabilizer bar is part of the suspension of a vehicle that helps reduce a vehicle's leaning when it goes around a corner or over road irregularities. It connects the left/right wheels together through short lever arms linked by a torsion spring.
The outer ends of the sway bar are connected to the struts or control arms. The part that connects the outer ends of the sway bar to the suspension component is called a sway bar link. The sway bar links are supposed to fit incredibly snug, without any play or movement.
Common signs of faulty sway bar links:
Clunking or rattling noises from the tire area.
Poor handling or a loose steering wheel.
Tie Rods (Inner and Outer)
Tie Rods are part of the steering mechanism on a vehicle. It consists of an inner and an outer end. The tie rod transmits force from the steering center link or rack gear to the steering knuckle. This will cause the wheel to turn when steering your vehicle.
Tie rod ends should be regularly inspected with each oil change service. They are a wearing part of the steering and suspension system of your vehicle. As tie rod ends wear, they become loose and can develop slack or play. They can impact a vehicles front end alignment and cause excessive tire wear and front suspension problems. A tie rod replacement requires an alignment service.
Signs of failing tie rods:
The vehicle may pull to one side, may shake, have vibrations, squeaking noises, or uneven tie wear.
When a tie rod fails completely, a driver will lose the ability to steer and control the vehicle.
Identifying worn parts before they fail can help prevent a larger or potentially more expensive repair. At My Mechanic, we provide a FREE 60 Point Vehicle Inspection Report Card where each listed part on the Report Card is checked. The customer is consulted of the items that are failing (F), or near failing (D). There is also the level grade of a (C) where the customer is advised that with each visit to My Mechanic we will monitor that part for wear that will within time, may lead to a mechanical or safety issue.
Tracy Moore
Assistant Service Writer
My Mechanic