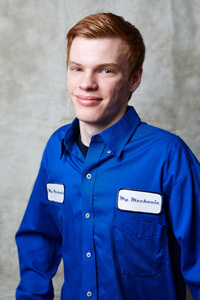 Jeremy Olson works here at My Mechanic on a part time basis. He is in his senior year at York High School in Elmhurst. He has been doing a great job here at My Mechanic and learning quickly. There is no doubt in my mind that Jeremy will be a successful auto technician. He has a great mechanical aptitude and enjoys fixing and maintaining vehicles. He has taken on some repair projects at home and treats it like a hobby. Jeremy is learning at a young age what it's like to be able to work at something that he has a passion for and that turns work into fun.
The following is a press release from York High School that I am very proud to share with you. It was written by the Automotive Instructor Ron Robak. Dated 3/2/2017:
"Today Jeremy was selected to be my student of the month for his academic achievement in the York High School automotive program. Jeremy received a certificate from the school honoring him.
Jeremy is also a two time Illinois state Skills USA competitor in the area of Automotive Service Technology. Last year Jeremy placed 3rd in the state of Illinois and received 11,000 dollars in scholarship money to continue his studies in automotive technology. This year he passed his qualification exam which allows him to compete in Springfield this April for the Illinois State Skills USA leadership conference. He hopes to to improve and take 1st place and a chance to compete at the national level held in Louisville, Kentucky later this summer."
Jeremy will be attending WyoTech automotive school after graduating high school. We wish him well and look forward to having Jeremy on board here full time in the near future.
Mike Larson