We excel at 'Check Engine' lights and emissions problems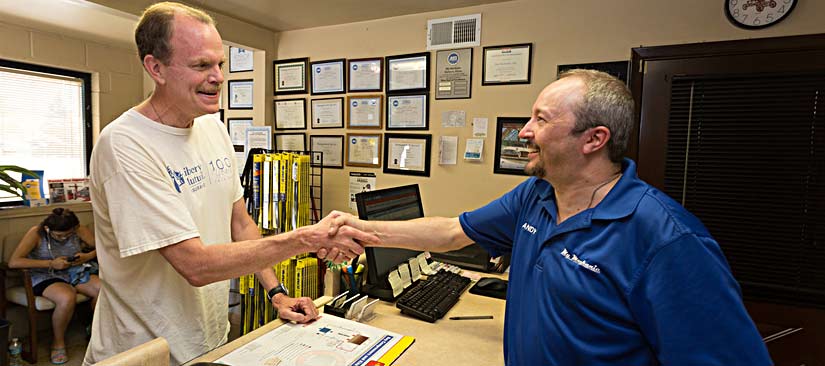 If we had to choose a specialty at My Mechanic, it would be diagnostics — whether it's a Check Engine light, emissions issue or another engine performance problem.
We pride ourselves on being able to get to the bottom of any warning light or drivability matter, even where other repair shops have tried and not succeeded.
Have a "Service Engine Soon" light on? We'll connect our diagnostic tool and retrive the trouble code at no cost. From there, we can give you an initial assessment and an estimated cost to diagnose the problem.
Failed the emissions test? We're the #1 auto repair shop in Elmhurst for emissions repairs, and this is because we go through continuous training to obtain the latest knowledge on all of today's vehicles.
We also have invested in many of the same diagnostic computers that the new car dealers have, including OEM tools for Ford, General Motors and Toyota. And we have dedicated diagnostic equipment for Audi, VW and other European car makes.
While many auto repair shops shy away from tricky engine performance issues, we welcome your diagnostic challenge. We have a ton of experience with "problem cars," and more importantly, we have a high success rate.
Engine Repair FAQs
Why Should I Choose My Mechanic Instead of the Dealer?
If we didn't convince you above why we're the best, consider this: New car dealers specialize in pattern failures: If there's a common problem with a particular vehicle, they see the same repair over and over and have the parts in stock to fix it.
But if your vehicle is older or if the problem is out of the ordinary, the ASE-Certified Master Technicians at My Mechanic are far better suited to diagnose and resolve the issue for you. This is because we understand how the systems work and we'll take the time to perform multiple diagnostic tests. We apply all of our knowledge to the problem. We don't just throw a part at it and hope it takes care of the issue.
What Should I Do If My Check Engine Light Comes On?
In some cases, the dashboards on today's cars can light up brighter than a holiday tree. Whether you see one warning light or five, it can be unnerving and leave you unsure of what to do first.
Here's what we recommend:
Keep your owner's manual in the glove compartment so you can look up any warning lights that are unfamiliar. There are so many lights in today's vehicles that it's nearly impossible to memorize what they're all for.
Pull over safely ASAP if you see any of these lights: Oil Pressure, Engine Temperature or Low Coolant, Powertrain Malfunction.
Drive directly to your auto repair shop without turning the vehicle off if you see any of these lights: Battery or alternator, 'Check Engine' or 'Service Engine Soon' that is flashing, a combination of multiple warning lights.
Schedule an appointment at your earliest convenience when one of these lights comes on: 'Check Engine' or 'Service Engine Soon' that is not flashing, Brake, Tire Pressure Monitor, Parking Brake, Airbag, Traction Control, Light Bulb Failure or Maintenance Due.
I Failed the Emissions Test. Now What Should I Do?
Schedule an appointment with My Mechanic! In addition to being #1 in Elmhurst for Emissions Repairs, we will take the vehicle to the emissions test lane for you after the repairs are done. This saves you time and hassle, and when you pick up your car, you'll be good to go!
Is There Anything Else That Should Be Done at the Same Time?
There are no "routine" services that go along with Check Engine Lights or other drivability issues. As part of the diagnostic process, the ASE-Certified Technicians at My Mechanic will recommend all repairs or maintenance that are needed to resolve the car's problems.
In addition, we will have completed a Vehicle Report Card before you authorize the repairs so that you know the overall health of your vehicle and can be confident your vehicle is worthy of the repairs.
Do you have more questions about engine performance or routine preventive maintenance for your vehicle? Don't hesitate to call us at (630) 833-6100 or schedule an appointment today.