From oil changes and brakes to 'Check Engine' lights and tires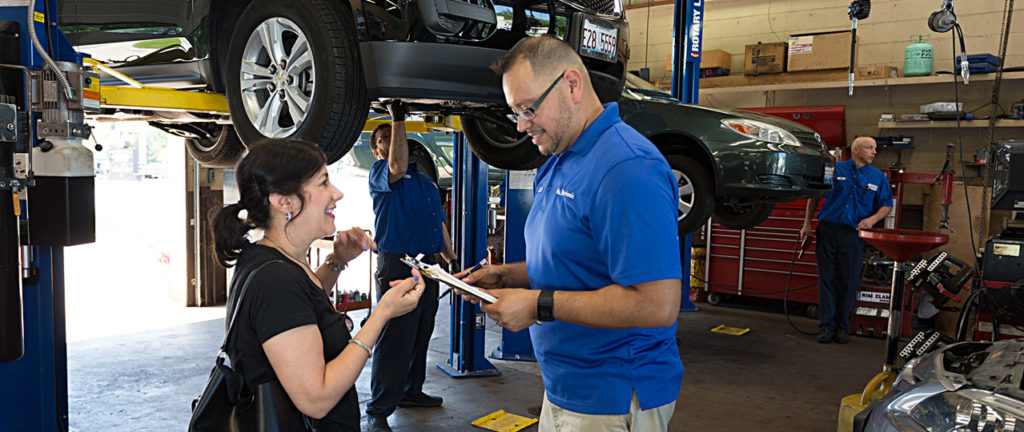 At My Mechanic, we handle the whole gamut of auto mechanical repairs. You can rely on us whether you need a straightforward oil change, brakes, tires or diagnostics on a rarely occurring engine problem.
In fact, here's one of our hard-to-diagnose success stories: A client brought in a 1996 Pontiac Bonneville that had been at multiple other shops for a Check Engine Light problem. The code in the computer said there was insufficient flow in the EGR (Exhaust Gas Recirculation) system. The other shops replaced the EGR valve — more than once — but the Check Engine Light would always come back on after a short time.
In order for us to properly diagnose it, we had to understand how the system works and how it's monitored by the vehicle's computer (ECM or Engine Control Monitor). We found a missing O-ring on the PCV (Positive Crankcase Ventilation) valve. That missing O-ring was causing inaccurate manifold pressure readings by the MAP (Manifold Absolute Pressure) sensor. The ECM couldn't use the information it was receiving from the MAP sensor to accurately detect when the EGR valve was opening. So the ECM would set the trouble code in the computer for the EGR valve and turn the Check Engine Light on.
After installing the correct O-ring on the PCV valve, the system functioned correctly and the Check Engine Light stayed off. Needless to say, our client was very pleased to finally have the problem resolved.
List of Services
Auto Appearance
Auto Glass Repair
Auto Detailing
Headlight Lens Restoration & Repair
Paintless Dent Repair
Side Mirror Replacement
Windshield Replacement
Diagnostics
General Auto Repair
A/C and Heating
Cooling System
Door Locks
Engine Repair
Exhaust Systems
Four-Wheel Drive
Hood and Trunk Supports
Ignition Switches
Shocks and Struts
Timing Belts & Water Pumps
Window Regulators
Inspections
Preventive Maintenance
Air Filters
Belts & Hoses
Cabin Air Filters
Car Batteries
Fuel Filters
Fluid Flushes—Coolant, Transmission, Power Steering, Brake
Headlights, Taillights, Brake Lights
Wiper Blades
Safety
Airbags
Antilock Brakes (ABS)
Seatbelts
Traction Control
Transmissions
Fluid Flushes
Maintenance
Gasket Leaks
Shift Cables
Coolant Tube Leaks
Tires & Wheels